Philippines' Ulasimang Bato
Another Philippine Herbal Wonder
Aside from taua-taua, which formerly thought of as a mere grass or weed by some Filipinos wherein they ignore them or pull them away from their background; another misrepresented herbal plant which was also formerly perceived as a mere useless grass have been discovered last last year by Philippine herbal doctors but not yet so much popularized nowadays. For the sake of those Filipinos who are still ignorant of this tiny herbal plant or those who have heard its medicinal value but shrug it or have some doubts regarding it, I have made this short article regarding this very nutritious herbal plant.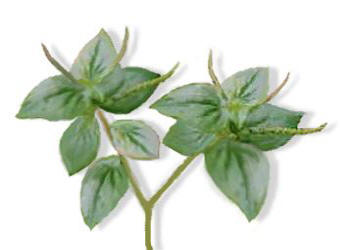 What I am talking about is that tiny plant with a heart-shaped succulent leaves which just sprouted randomly on damp walls, plant pots of your favorite ornamental flowering plants, on your garden nook areas, on your backyards and even on the top of your unclean roof of your house – the Ulasimang Bato/ Pansit-pansitan/ sinaw-sinaw/ tangon-tangon/ olasiman ihalas/ lin-linnaaw. Yes, this tiny Philippine herbal plant has a variety of names in the Philippine but scientifically it is called Peperomia Pelluicida Linn.
A 100 gram of Ulisimang Bato could contain 1.1 grams of carbohydrates, 0.5 gram of protein,0.5 gram of fat,94 mg of calcium,13 mg of phosphorus,4.3 mg of iron,1250 ug of beta-carotene and 2 mg of ascorbic acid or vitamin c; which we need in our daily diet, wherein it could be eaten raw as part of a salad meal.
However, in terms of medicinal value, Ulasimang bato could help one in their arthritis, headache and convulsion, abdominal pains, kidney problems, skin problems and gout. It could also decrease one's Uric acid and tophi formation if one has high Uric acid levels.
Ulasimang bato is also antipyretic (that is why it relieves headache), antifungal (which kills particularly the Trichoployton mentagrophytes fungal parasite) and antibacterial (which kills bacterias like Bacillus subtilis, Escherichia coli, Pseudomonas Aeruginosa, and Staphylococcus Aureus bacteria)
However, despite of its very nutritious and healing effects, Ulasimang bato should not be use when one is a lactating women or a breastfeeding mother and a pregnant women and to those who have asthma-like symptoms triggers by hypersensitivity reactions to a plant species.
There you go, I hope I could help, especially the financially poor Filipinos in seeking nutritious food they could serve on their families without spending much and could have an effective alternative medicine for their respective illnesses even though they do not have money.